| | |
| --- | --- |
| | The ESPN "Not My Server" sample |
Sadly ESPN decided to retire all of its public APIs (see announcement). Therefore, this sample no longer runs. We're looking to replace it with something that demonstrates the same ability to consume a 3rd party API. Until then, you may benefit from reading the description and reviewing the code.
Patrick Walter's "Not My Server" style application shows Breeze using data from a 3rd party service.
Download the sample from GitHub.
Prerequisites
Bootstrap.js
Breeze.js
Durandal (jQuery.js, Knockout.js, Require.js)
q.js
Sammy.js
Toastr.js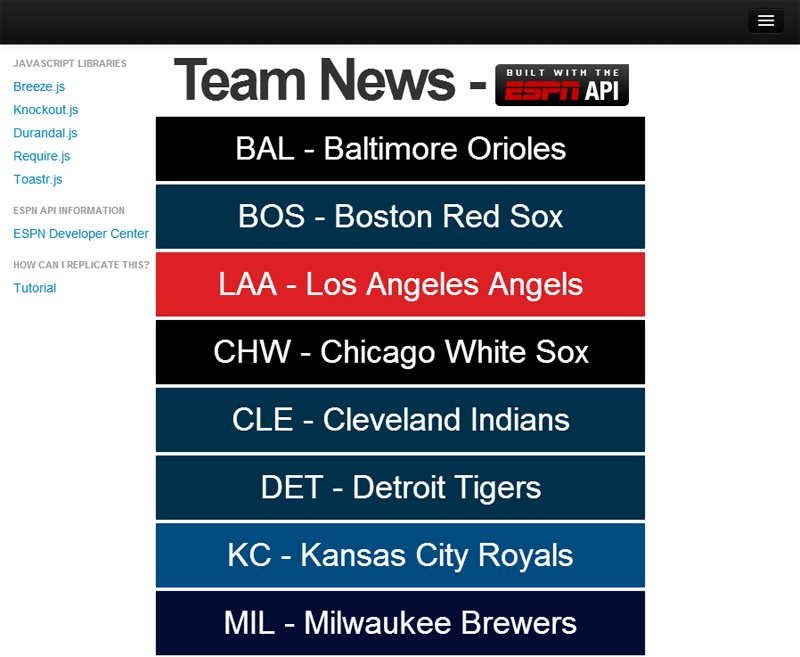 Overview
Team News is a simple app that consumes ESPN's free public API using Breeze.js for client-caching and using Knockout.js for data-binding.
Patrick started this sample to help those looking for help on using Breeze.js with Knockout.js. The Breeze website has sample using the Edmunds API and AngularJS, and Patrick felt that Knockout.js needed its own 3rd-party data sample to make the learning process easier. Durandal's Starter Kit also includes Twitter Bootstrap for front-end design and Sammy.js for routing.
Technologies
In an effort to see how quickly Patrick could create a working sample, he used the Durandal.js Starter Kit project. By starting with this kit he was able to add Breeze.js and get the sample up and running in Visual Studio 2012 in about 10 minutes, as opposed to starting with a blank project, stripping it, setting up views and routes, and everything else that can take additional time.
Key functions in this application include datacontext.js, model.js, and jsonResultsAdapter.js files.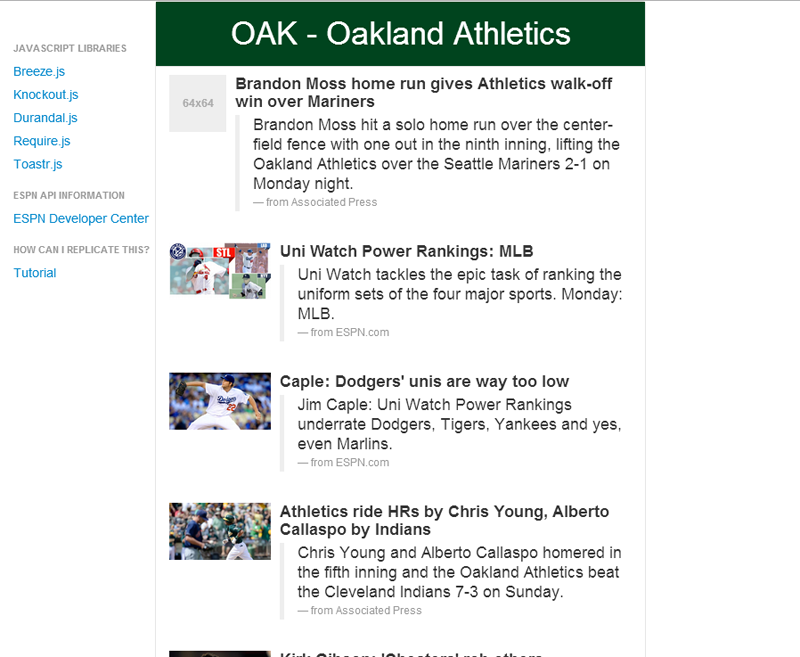 What to look for
There are a few cool Breeze things going on in this project I wanted to point out:
Inside App/services/model.js you will find how to add entity types without using metadata
Inside App/services/datacontext.js you will find a few "gems"'

How to use 'toType' in your Breeze queries
How to add parameters onto your queries to an API
How to add a custom JSON results adapter

Inside App/services/jsonResultsAdapter.js you will find a few "stones"

How to create a basic results adapter that Breeze uses when data is returned (when 'toType' isn't enough)
How to map new properties on top of the data
In addition, there are a few cool Knockout things going on:
The background color for each team is dynamically evaluated
The accordion is dynamically created